OMEGATIN® is a revolutionary diet high in fat and fiber, low in starch, and balanced with quality protein. Paired with low starch and high fiber, OMEGATIN® potentially reduces the risk of diet-related disorders, including colic and founder.
High Fat: More Energy, Less Risk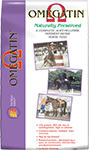 Until recently, to get more energy into a horse, you had to feed more grain. But high intake of a grain diet can cause digestive problems, such as gastric ulcers, colic, and founder. This diet can also cause increased excitability in some horses. OMEGATIN® replaces energy from the starch in grain with calories from fat.
Lower Starch Means Greater SafetySome high-fat horse products can contain as much as 50% starch. By comparison, OMEGATIN® has a starch content of only 13.5%. This is a benefit to horses exhibiting starch sensitivity. With lower starch, OMEGATIN® helps maximize the health and safety advantages of high-fat horse diets.
Rice Bran Supplement
Max-E-Glo™ stabilized rice bran is a superior performance supplement specifically formulated for horses.  Max-E-Glo offers several nutrition benefits for your horse:
One Year Freshness Guaranteed.  Ensures that your horse is getting fresh, palatable product every time.
Unique Stabilization Process.  Rice bran is the most nutritious part of the rice kernel, but it is important that it is stabilized properly.  NutraCea's® proprietary stabilization process ensures that Max-E-Glo will not become rancid.
"Cool" Nutrition.  High fat and fiber content maintains energy without high-starch hyperactivity, providing your horse with a safe diet.
High Fat for Extra Energy.  High in natural plant-based fat, highly digestible and very palatable.
Superior Top Dress.  Mixes well with other feeds to provide a premium performance supplement.